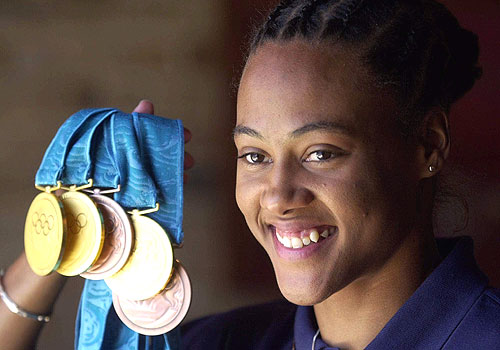 Now, you've noticed that I really don't give a shit about cheating in "professional" sports, Bill Bellicik, Rodney Harrison, Shawn Marrion, Barry Bond, who the hell cares, they're such contrived activities driven by American's pipe dreams of hyper-human athletic acheivement that it only stands to reason that everyone should be trying to transcend human athletic ability; the doctrine of professional sports in America is being more than human in every aspect down to cleats and night games - we cant turn that quickly on grass with just our feet or get a good grip, so it's okay to make us more that human by putting leather and spikes around our feet, humans can't see at night, the whole appeal of a night game is that we are doing something that human's cannot naturally do by playing in the dark with the lights on. My point is that it's alright to like these sports, I obviously do quite a bit myself, but get real it's not an honest effort at acheiving human athletic greatness, it's testing all facets of humanity, given the crown emotion, the intelligence of the players, the applied technology of the lights, the ingenuity of cleats, etc, but deceit is a highly human quality - has your dog ever lied to you? - steroids and Bellicek type cheating is only within what the culture of professional sports dictates, it is applying human ingenuity and technology (like HGH or whatever choice steroid) to make the game more exciting, etc.
Now, with that said, we probably know what I have to say on olympic sports; that, not because of the name 'Olympic Games' or any of that shit, but because it is an honest and international showcase of base athletic ability: running, jumping, etc (not running with a ball and throwing a ball to someone else and then running into a rectangle) - or so we thought. Well it was only a matter of time until someone embarrased a respectable country (Russia and China with their gymnastic scandals, yea, I don't respect Russia or China) by bringing the attitude of professional sports, which are closer to theatre in my mind than true athletics, to an international athletic competition. If you haven't heard, I speak of former multi-olympic gold medalist Marion Jones who has reacently admitted to taking steroids - and here's the great part - and lying about it for years that shes known about it (it's just so perfectly American professional sports culturish). So that's all well and good because we all are aware that steroid in that type of shit is just wrong, though many seem in denial that it's actually within the mindset of the professional sports they love so much. But now they're asking her relay team mates to return their medals, and it seemed like an issue deserving of discussion.
It is absolutly dispicable that she would do that and then lie about it in a pure athletic arena and I will be among the strongest supporters for the harshest punishment they can muster in order to discourage this type of behavior, but what of her team mates? She lied, even if she said she didn't know at the time, and they had no way of knowing, and now they will have to be associated with the extraordinarily embarassing act of their team mate and forfeit their Gold olympic medal. The first thought that comes to my mind is that they couldn't have won without this girl, and thus don't deserve the medals and they should rightly be taken away. I see no way to counter this argument besides that they were 3/4 of the team who were supposedly clean at the time, which is a majority of the relay - that says somewhere in my mind that it could be justifiable if they did not take the medals away, but it seems that bottome line they would not have won without the best female runner of that olympics...